Infrared Red Light Therapy in Encino, CA
If you have loose skin or other aesthetic concerns, or are experiencing pain, stiffness or inflammation, trust the

professionals

at Golden Health & Beauty Center to help you achieve your goals and improve your quality of life with tried and true treatments. For more information,

call us

or

schedule an appointment

online.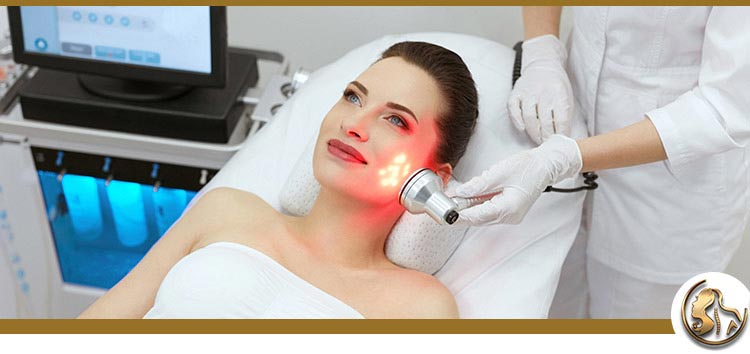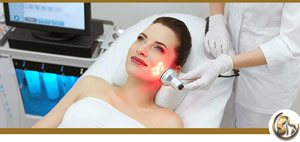 Table of Contents:
What does infrared light therapy do?
How long does it take for red light therapy to work?
Does red light therapy tighten loose skin?
Infrared light therapy is a type of light therapy that uses infrared light to treat a wide range of medical disorders, including pain, stiffness and inflammation. As a form of light therapy, infrared red light therapy works in a very similar way to conventional light therapy, except it uses shorter wavelengths of light to treat disorders. The main difference between infrared red light therapy and conventional light therapy is that infrared red light therapy has a deeper and longer-lasting impact on the body than conventional light therapy.
What does infrared light therapy do?

Infrared therapy is a new and revolutionary light-based therapy for the treatment of pain and inflammation in various parts of the body. Unlike ultraviolet light, which can cause skin damage, infrared light promotes cellular regeneration. Certain wavelengths of infrared light are delivered to the site of injury or inflammation, promoting cell repair.
 
The ability of infrared light to penetrate even the deep layers of the skin, providing better pain relief, is its defining feature. Infrared light is also non-invasive, painless and safe; as a result, it may be capable of providing a wide range of health benefits.
 
Infrared light therapy is widely used in medicine, dentistry, veterinary medicine, and the treatment of autoimmune diseases, to name a few. Because the therapy is both safe and natural, it can be used as an alternative treatment for a variety of health conditions such as muscle pain, joint stiffness, and arthritis.
 
Infrared therapy serves numerous functions in the human body. These include detoxification, pain relief, muscle tension reduction, relaxation, improved circulation, weight loss, skin purification, diabetes side effects reduction, immune system boost, and blood pressure reduction.
How long does it take for red light therapy to work?

The time it takes for red light therapy to work is different for each person because it is dependent upon a number of factors, including:

– The condition(s) being treated
– The severity of the condition(s)
– The chronicity (duration) of the condition(s)
– The number of treatments received
– The frequency of treatments

Based on the following factors, it may take up to four months to see results from red light therapy. To better understand why it takes this long, it helps to think of red light therapy as exercise for your cells. Much like with weightlifting for your muscles and cardio for your heart and lungs, red light therapy strengthens your cells' ability to produce energy; therefore, it is a gradual process that takes time and dedication in order to achieve the most propitious results.
Does red light therapy tighten loose skin?

Yes, red light therapy tightens loose skin. Loose skin is a common complaint that many people face due to the natural aging process. With age, the skin's production of collagen and elastin begin to decline; consequently, the skin begins to lose its elasticity and firmness, causing it to sag and droop. This can be especially noticeable on the face, neck and arms, because the skin is thinner on these areas.
 
One option for addressing loose skin is surgery, but this is often expensive and can pose serious risks to the patient. The non-invasive option is to use light therapy, which comes with few side effects or potential complications. Light therapy uses different wavelengths of light to stimulate collagen production and promote skin cell turnover; this helps to tighten the skin, reduce wrinkles, and achieve a more youthful complexion.
 
Call us today to book an appointment for infrared red light therapy, or visit our clinic conveniently located at 16661 Ventura Boulevard, Suite 700, Encino, CA 91436. We look forward to serving you! We serve patients from Encino CA, Sherman Oaks CA, Studio City CA, Woodland Hills CA, West Hollywood CA, Calabasas CA, and San Fernando CA.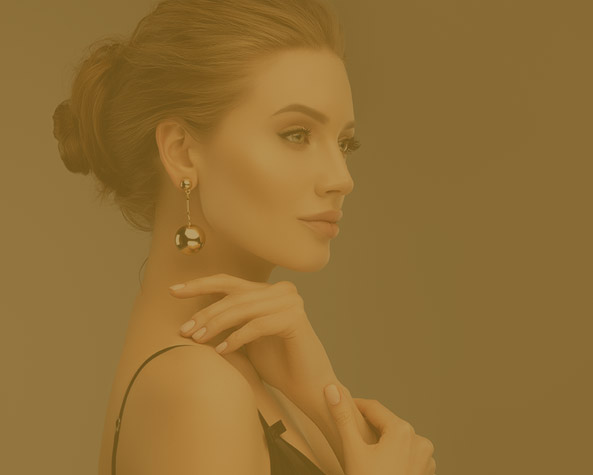 Additional Services You May Like